As many of you might have noticed, I have not been writing or blogging here as much as I thought I would be since moving away from my full retail gallery in December 2012. The fact is, that I have been really busy with commissioned paintings, product development and special projects.
The truth of the matter is that it's really much easier to write updates on Facebook and to post images there and keep in touch (I mean a girl needs to have time to create art too, right?). All of which makes me wonder, is blogging becoming a thing of the past?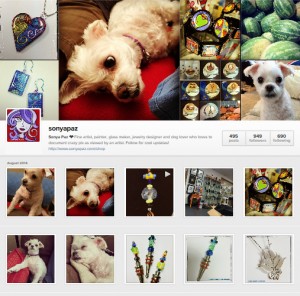 I have (finally) gotten more active on Instagram. I have been on Instagram for a total of 106 Weeks (approx. 2 years). I cannot say that I have been 100% active posting images, but over the last couple of months I have been utilizing the benefits of my iPhone to its fullest. The camera is amazing, the video is easy and editable features are easy to use. I am not looking for video excellence but the iPhone does have superior quality for a smartphone.  I don't have time for a huge learning curve, I want it smart, lite, simple and fun.
It's rather addicting, not to mention enjoyable. The ability to connect with people from everywhere simply based on a small square image is truly enchanting.  They say that an image speaks a thousand words, right?   It helps me capture the moment not only in my art, but my adventures, travels, creation process, inspirations, my amazing dog SAMi and more!
I have realized that Instagram can be what you want it to be, it can be all about your pet, your art, your favorite food, your job etc. I have chosen for it to be about everything that I find appealing and positive.  If you can, follow and like my adventures  we will follow you back!  Thanks!   http://instagram.com/sonyapaz