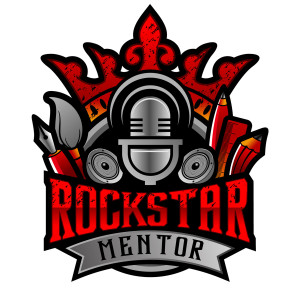 Hey there everyone! I am sooo excited and thrilled to announce that I FINALLY have my podcast launched and it's live and online!
Welcome to Rockstar Mentor!  Yup, after years of saying that I will be doing this podcast, I have finally launched.  Several of you know that I have been mentoring, coaching and educating artists on all levels to give them the lessons on how to best marketing their art as well as marketing themselves and Rockstar Mentor is the website and podcast to ROCK your inner entrepreneur and totally rock it in the art industry.
As you know – I have done IT ALL, from self representation to owning a series of amazing galleries and studios, publishing, designing, building my own awesome product line!
Please be sure to check us out online and SUBSCRIBE and if you like this, give us a five star review!  This really helps with us with getting better ratings and credibility on awesome sites like Stitcher Radio and Itunes. Whooo Hooo!
WEBSITE: http://rockstarmentor.com/
PODCAST: http://rockstarmentor.com/podcasts
FACEBOOK:  https://www.facebook.com/rockstarmentor/
TWITTER:  https://twitter.com/crushitmentor
iTUNES: http://iTunes.apple.com
STITCHER RADIO: http://www.stitcher.com/
MasterMind Group: http://rockstarmentor.com/mastermind-group/
Support the Podcast on Patreon https://www.patreon.com/rockstarmentor
We also have a page you can subscribe to to be part of our artists MasterMind Group!
Thank you and I hope you are having an amazing day!